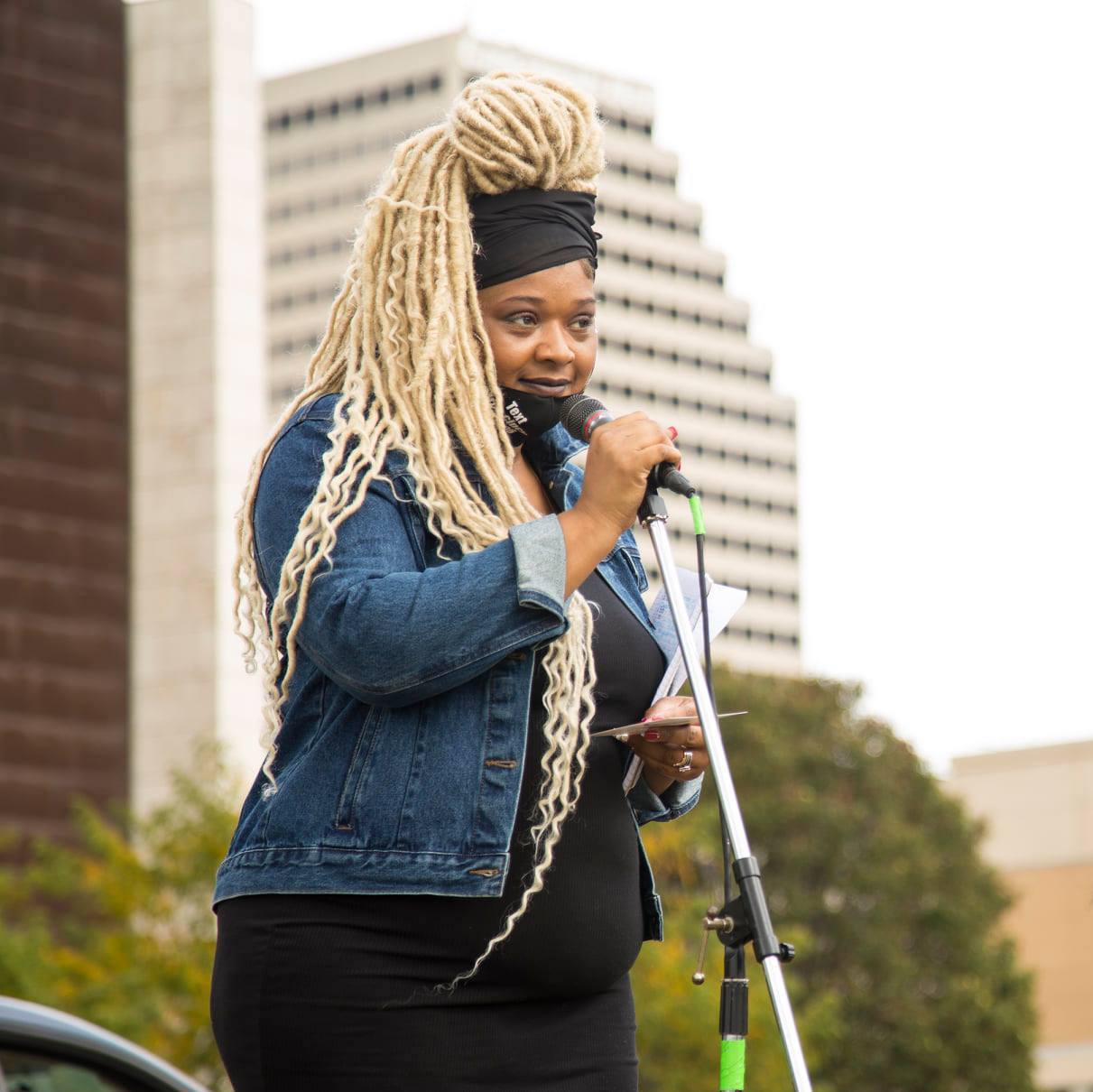 "As leaders, to truly be successful in our organization or whatever endeavors we take on, we have to be strong as individuals."
by Chazidy Bowman, #LwC2021, President and Founder of Opportunities People's Justice Leaders
July 22, 2021
What do you work on and how did you get involved in it?
In the work that I do now, we advocate for the civil and human rights of those that are incarcerated. We offer services and resources to their families. I began doing this work after I met my husband in 2016 during his incarceration. He was already two years into serving a nine year sentence. We met in that year of 2016 and we were married in Ohio State penitentiary in 2018. Through our experience with incarceration and the things that I saw, the way that he was being treated, it developed into the advocacy work that I am doing today.
What is the most satisfying thing in your work?
Honestly, the most satisfying thing in the work that I do is when we get calls. From families and we do get those J pays from the inside. It's satisfying to know that they have a source, because, as you know, with incarceration there are no reliable sources to truly help with the rehabilitation process. Nor the incarceration process and mental strains that it causes on families. To know that we are a source and that we are a go-to place, that people feel safe and they feel like that they can receive help from our organization is the satisfying part of what we do.
What are your hopes for 2021?
In 2021 our hope is that we are a fully funded organization. That we can help more families, more people incarcerated and the biggest project that we're working on is a nationwide call center for all facilities and those that are returned home and their families, a one stop source for resources and information and help for their loved ones, to make this process a little bit easier. Our hope is that by the end of 2022 it will be up and operating.
What do you want to get out of Leading with Conviction?
I call Leading with Conviction my organizing boot camp. Just the skills and the structure and the discipline. All the tools that I need to be successful, for me, I feel like in order for us as leaders to truly be successful in our organization or whatever endeavors that we take on, we have to be strong as individuals. That is what I'm looking for to be an effective leader to those that look to me for guidance.
What is your vision for the future?
My vision for the future is that organizations like mine do not exist, and I say that because as long as organizations like mine exist, that means that there's a problem with treating people like humans. If my organization exists, there's still a prison system. My hope for the future is that organizations like mine no longer exist because the systems and barriers that contribute to mass incarceration and the effects from it will no longer exist.
If you could invite any three people to a dinner, who would they be?
Oh, my gosh, so I would invite my grandma from heaven. To talk one more and absorb her wisdom that I took for granted as a teenager. I would pull my husband out of the prison and finally, one more person, would be Smith Wigglesworth. He was what they call a modern day Moses. He was known to have walked very close with God. His faith was so amazing. I would love to sit and talk with him and learn..
What would you be famous for if you were famous?
I would be a celebrity chef! If I were famous, that's what I would be known for. Besides this work I have a hidden talent of cooking. It is my first love.
Where were you a year ago?
Last April, I was leading my first direct action in Columbus, Ohio, speaking about COVID-19 in prisons. It was the first time I had ever done direct action, and in the middle of a full blown pandemic. I had no idea what I was doing but we ended up turning out over 250 people and that's when it all began for us. Last year, I was extremely overwhelmed and very stressed about Covid in the prisons and what that looked like. And I really kind of lost myself in the struggle and in the fight, because every day, day in, day out, countless days, hours, sleepless nights, we were making sure that our loved ones and the entire population were safe. Last year was a whole lot more stressful and complicated than it is now but I think looking back I've learned a whole lot and i've seen a lot, done a lot and so i'm very thankful for for last year, because it has propelled me in a direction that I never knew that I would even be able to go in.