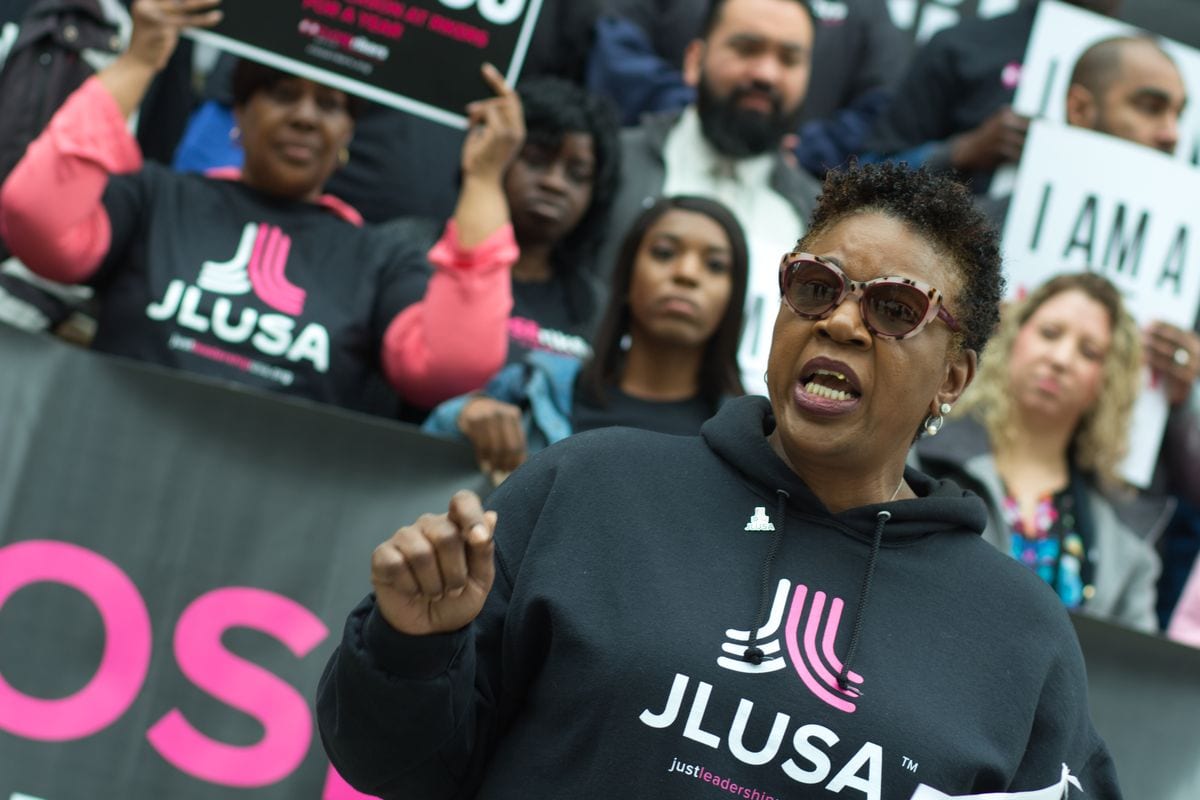 About
Mission
JustLeadershipUSA is dedicated to cutting the US correctional population in #halfby2030. JLUSA empowers people most affected by incarceration to drive policy reform.
Mass incarceration is the most significant domestic threat to the fabric of our democracy. The reason for such high incarceration rates is not serious crimes but misguided policies such as mandatory minimums, three-strikes laws and reductions in the availability of parole and other early release mechanisms. Through targeted advocacy, strengthening leadership and membership support, JustLeadershipUSA believes a decarcerated America is possible.
History
JLUSA was founded in November 2014 by national criminal justice reform advocate Glenn E. Martin, on the guiding principle that "those closest to the problem are closest to the solution, but furthest from resources and power." The inspiration for JLUSA came from Mr. Martin's personal experience, having been previously incarcerated for six years. JLUSA's #halfby2030 mission came from Mr. Martin's love for his youngest son, Joshua Martin, who will turn 18 in 2030.
As president of the organization until December 2017, Mr. Martin worked with staff to launch the bold and successful #CLOSErikers campaign, propelling JLUSA onto the national stage; engaged in unflinching and non-partisan advocacy on the federal level; and set the foundation for the agency's multi-city advocacy work. Mr. Martin and JLUSA's Senior Training Consultant, David K. Mensah, developed the organization's leadership program with input from over 50 formerly incarcerated leaders from across the US, with support from the Center for Institutional and Social Change at Columbia University. The Leading with Conviction advanced leadership development program and Emerging Leaders regional trainings are an investment in the individual and collective leadership of people directly impacted by the system of mass incarceration.
JLUSA is the first organization in the country to call for the correctional system to be halved, and has inspired a movement of people and new organizations to follow our mission toward decarceration. From closing toxic jails and prisons to reforming pretrial laws, barriers to employment, and the wider system of mass criminalization, JLUSA's bold campaigns with valued partners across the U.S. amplify the voices and expertise of directly impacted people who are leading us toward #halfby2030.
Careers
JLUSA is dedicated to cutting the US correctional population in half by 2030. Come work with us and help make this dream a reality.