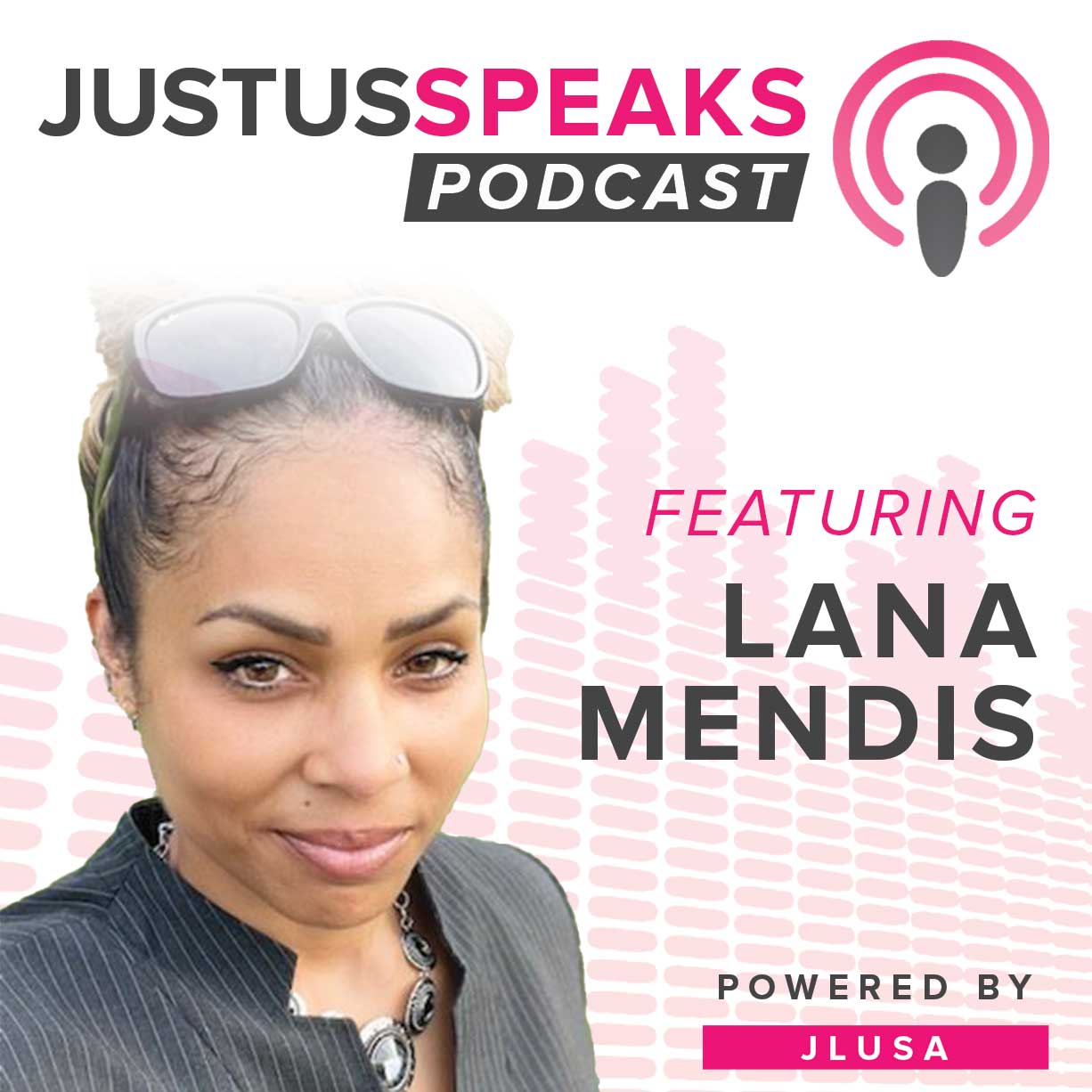 Lana Mendis on the JustUs Speaks Podcast
by JLUSA
January 17, 2023
She graduated from JLUSA's Leading with Conviction program. Now she's working with JLUSA to grow the work! Lana Mendis sits down with the JustUs Speaks Podcast.
LISTEN NOW:
READ THE FULL TRANSCRIPT OF THE INTERVIEW:
Lester Young: Peace and blessings, everyone! Welcome to the new JustUs Speaks Podcast from JustLeadershipUSA. I'm your co-host, Lester Young.
Hakim Crampton: And I'm your co-host, Hakim Crampton.
JustUs Speaks is being produced to amplify the voices of directly impacted people, particularly the voices of formerly incarcerated people.
Lester Young: JustLeadership was founded on the principle that those who are closest to the problem are also closest to solution, but too often further from the resources and power to affect positive change.
Hakim Crampton: So right here, on our first season of JustUs Speaks Podcast, we're interviewing leaders from the most recent 2022 cohort of JustLeadershipUSA's "Leading with Conviction" leadership training program.
Lester Young: Today we're talking with Lana Mendis.
Lana is currently serving as JustLeadership's [Leadership] Administrative Coordinator. She also works with the Lutheran Metropolitan Ministry part-time with "Chopping for a Change," a culinary arts program for incarcerated women. Powerful, powerful!
Hakim Crampton: Indeed. Lana is also a great mentor, as well as an ambassador for Prison-to-Professional PhD—that's P2P—working on the STEM Opportunities in Prison Settings project. In addition Lana also attends Ohio Christian University full-time, majoring in Leadership and Ministry in Pastoral Care and continuing straight into her Business Management MA in Leadership in 2022.
Lester Young: Wow! Does she have any time for herself to do anything, bro?
Although Lana worked in the finance/brokerage industry for 18 years prior to her incarceration in 2016, which changed her life, she's very passionate about advocacy and policy reform within the criminal legal system. This passion stems from encountering many obstacles and difficult challenges, trauma, and adversity in her life.
Hakim Crampton: Yeah, so in fact, Lana is a survivor of abuse, of the foster care system, of neglect, of homelessness, of domestic violence, and incarceration. So, Lana, welcome, welcome to JustUs Speaks Podcast!
Lana Mendis: Thank you so much. I'm so excited to be here. I really appreciate this opportunity to share a little bit about who I am, why I do what I do, and being a part of such a wonderful team.
Lester Young: Cool. Listen, listen, you're the first guest. So how does it feel to be the first guest of the JustUs Speaks Podcast today? Like, you're the first one!
Lana Mendis: I feel special. I feel, you know, this is a privilege to do this, and I think this is great. It's a great opportunity to be heard, because that's what we do—we help amplify those voices.
Hakim Crampton: Indeed, so tell us, what is it that you do? You know, how did you get involved in it? Tell us about that!
Lana Mendis: I'm the Lead Admin Coordinator for JustLeadershipUSA. We help with different programs across the country like "Leading with Conviction," "Emerging Leaders," having partners that work with us in these different communities to help leaders such as us grow and become leaders within a community.
I also work for Lutheran Metropolitan Ministry and "Chopping for a Change" program, which is a program that works with women and men who are currently incarcerated in what their goals are is to receive their Associate Degree in culinary arts. So I'll also work part-time with them, and it's great, because I actually graduated from that program while I was incarcerated, so of course that's a part of my story. I have the lived experience, which is why one of the reasons why this is a passion of mine, to help those who have walked in my shoes or at least similar. And I also work in the STEM-OPS program. STEM-OPS meaning STEM Opportunities in Prison Settings.
I'm an ambassador for Prison-to-Professional PhD, and that's important to me, as well, because education is very important to me. I am in school full-time. I actually just graduated with my Bachelor's and am going for my MBA.
Lester Young: Congratulations!
Lana Mendis: Thank you! That's a lot of work, and like you said, I don't have time, because I'm also a mother of three and a grandmother of one. So that's something that a lot of people don't know. But nonetheless I feel like a lot of, like, educational opportunities for those who are incarcerated is essential, and it also helps reduce the recidivism rate, the higher the education level is, so, those studies have been known to be factual.
Lester Young: You know, I appreciate you sharing that, and one of the questions I want you to share with us and the audience, for those who get a chance to listen to this podcast, is like I said, who are you? Like, who are you? You gave us the list of all of your things that you have done, but who are you?
We know that you're JustLeadership staff. We know that you just graduated from the "Leading with Conviction." But what, who are you, like you know, in that capacity that has made you the woman that you are, the mother that you are, the community servant that you are? Who are you? And I just want you to share that briefly with the audience like something that no one really knows about you, but just tell us who you are today, you know, outside of all of the other great servant leader stuff that you're doing. What is it that we need to know about this woman that is standing before, sitting with us today on this podcast?
Lana Mendis: This woman sitting here has been through a lot, a lot of trauma. And I always say that my story is my testimony, and I share a lot of my story to others. Now I can be a little more open about it, because I know it's going to help someone else, you know. Grow someone else, encourage someone, help someone, give them hope, because I've been in so many situations where I just thought life was over. Things were … I felt hopeless. I played the victim. And I'm a person who, I enjoy seeing others smile and succeed. And I'm that person who would sacrifice my own time and my own self in order to make sure that someone else is good. And you know sometimes people say, "Well, no you can't do that." Well, sometimes that's what we're here for. I feel I'm a servant and a leader at the same time. So that to me is like you have to be, if you're a leader, in leadership, you also have to practice humility, and I'm that person who will be your biggest cheerleader.
I understand a lot more than people think. One of the things I say is you can't judge a book by its cover. And I am passionate about what I do, because of my lived experiences and because of things that I've encountered since a child that a lot of people don't know. But I smile, and I thank God every day for taking me through, bringing me through this so I can help encourage the next woman, child, man, whoever needs it.
Lester Young: Hakim, I just, I want to unpack a lot of that, but I'm gonna give it to my co-host, because I'm not gonna, like, take up too much space here, so, Hakim?
Hakim Crampton: Your answer really leads me into this next question, you know. Like for both Lester and I, like, and I'm sure this may ring true for you, and I want to kind of question that, you know, most of what we do and most of how we do it really is a result of who we really are. Like you know when we ask you, who are you, and you describe, your first response was, you're a person, a woman, that's been through a lot of trauma. And for me and Lester, you know, trauma being our background is what motivates us and inspires us to get into this work, to lead leaders, you know through the healing process and into the next phase of their leadership. And so you know for us that's satisfying, we know that we can help relieve the trauma from someone else that's experiencing it, so that perhaps someone doesn't experience what we experience. So tell us, what is the most satisfying part, you know, of you doing this work, and is there a connection to you working for JustLeadership and doing the work that you do with the culinary arts program? Is that satisfying? And what is satisfying about it? Is that connected to your past?
Lana Mendis: Yeah, I'll start where … It is very satisfying, it's fulfilling. What's satisfying about this work is watching people grow and live and walk in their purpose, like for instance, "Chopping for a Change." I love cooking, and I love culinary, like I love creating dishes. I'm one of those people. I love food, I love to cook, and I love to see someone satisfied through what I've created, so to me it's like art, right? I'm a creator of, like, plating, you know, things like that. So being in that field and watching other men and women enjoy that, giving them and allowing them an opportunity to grow and that become a passion of theirs, despite what their background is, despite what they've been through or what society would label them as, and see them grow in that, that's fulfilling. That feels great!
What I do with JustLeadership, watching leaders develop, watching them walk in their purpose, and speak, and help amplify, you know, their voice and in creating these leaders within the community to help directly impacted people, you know, who have been affected by the criminal legal system. We're trying to help them self-organize. We're trying to help them grow and become more comfortable in spaces that they are uncomfortable in. So I love that saying where they say, "Those closest to the problem are closest to the solution but furthest from the resources." So what I love about us is that we're helping to create a table of our own, so that we can be heard. Instead of, I mean it's important that we go sit at someone else's table so they can hear us, but we need them to hear so when we have a table they know, you know, they come to us and they hear what we have to say about changes that need to be made. And we have that power to create those changes, so a lot of this again stems from my lived experiences. So I'm that person who wants these changes to be made and who better, you know, to be a part of it, than those who have been in it?
Lester Young: Yeah, you know, I'm gonna ask permission to unpack something with you. You mentioned something about trauma. And me and Hakim ask you about how that has influenced you, and then you mentioned how you went through what you went through so that you can actually help other women become stronger, right? And we're talking about leadership. We're talking about servant leadership. We're talking about this "Leading with Conviction," and we know that there's going to be a lot of women who are directly impacted, who may still be incarcerated in some form, that may get a chance to listen to this JustUs Speaks podcast. So I just, if it's OK with you, I want you to really expound more upon that part of your life, that trauma that you've had to fight through to get where you're at today. That you're now doing all of these phenomenal things with culinary arts, helping women graduate, getting your degree from college, working with JustLeadership, just graduated from "Leading with Conviction," all of these are things that people see, right? But what they don't see is, I want you to talk about, that you had to fight to get to this part of your journey. Right here, as a leader, what are some of the things that you want to share, if it's OK, if you're comfortable with, what are those things that you had to fight through to get where you're at today. Because I'm pretty sure, your story is going to inspire a lot of other women who are going to get a chance to listen to the JustUs Speaks podcast.
Lana Mendis: So, some of my story does include, you know, I've been through a lot of trauma. And what I do know is that it can be really heavy to discuss sometimes, and sometimes very difficult. I share a lot of my story about my incarceration and things that I went through in my childhood to help, you know, others, especially women, know that no matter what, you can get through it. Some of my past includes a lot of bad choices, a lot of bad mistakes that I've made, obviously it landed me into incarceration. And what I decided to do even despite my past, is I decided while I was in, I had a choice. I'm sorry, y'all this is a, it's a deep question right now.
Lester Young: No problem, like I said we can move to something else. I just wanted, because the purpose of this question is again the JustUs podcast, is to speak about leadership. But I think it's important that as leaders, to share just a little bit about how we got here. I just wanted to just give you space to unpack that, and I didn't want to gloss over that.
Promo: JustLeadershipUSA amplifies the power of directly impacted people by investing, educating, empowering, and elevating their voices so they have the tools and resources to self-organize and advocate for themselves, their families, and their communities. Together we build an equitable fair and just U.S. To date, over 1,400 leaders in 45 states and in Washington, D.C., are hard at work transforming people and communities who are harmed by mass incarceration. Please partner with us to bend the arc of criminal legal reform by donating to our leadership programs today. Our network of leaders is strong and growing! Together we're building local power for national impact. Every donation supporting JLUSA and our leaders has a ripple effect across families, communities, and generations. With your support we can continue working together towards our singular vision of a just, equitable future for all. To learn more go to jlusa.org/give2023. That's jlusa.org/give2023.
Lester Young: We can move into the next question and that will be, what is one book that really inspired you during your incarceration to embark upon this role as a leader today? What is that one book, and why was it that one book that inspired you?
Lana Mendis: That one book? Oh my gosh! I don't know if you all heard of The Purpose Driven Life by Rick Warren?
Lester Young: Yes, I have.
Lana Mendis: But honestly that was that one book that, prior to incarceration, everyone's like, "You need to read it." I'm like, you know, I'm the, I wasn't big into, I liked reading but not really. I like watching movies more. So, however, when I was in, of course, nothing but time, so I must have read that book about four times and was a part of three of those that had turned into Bible studies. So that book [The Purpose Driven Life] helped guide me, step-by-step, why it's important, why my life is important, why the experiences that I had, you know, basically helped mold me into who I am today. So although they may have been, you know, not so great experiences in life and somewhat traumatic and painful, that helped, with the incarceration especially, that helped create in me someone stronger. Someone who wanted to, you know, help others while I was in, while reading that book, and learning more about what my purpose is. It helped me to become even a leader while I was incarcerated, because I was conducting groups and facilitating different, you know, Bible studies and things of that nature. So that helped me grow and come out of this box that I lived in. Because I've always been known to be a quiet and shy person, reading that book really helped. Honestly, I feel like it was a part of what has, what changed my life, and helped me see that, you know what, despite what I've been through, I have a purpose, and it's definitely to help others.
Lester Young: So would you say that that's your motto? For example, "helping others," that's your motto in life?
Lana Mendis: That's my motto in life, yes. My motto in life is "helping others" and "don't judge a book by its cover," because you never know what their story is.
Lester Young: Hakim, what was that favorite book for you? Like I know I'm familiar with [The Purpose Driven Life] by Warren, that was a very powerful book, but mine would be I think me and you share the same book, right? [The Autobiography of] Malcolm X by Alex Haley? What was that we would say that was both of our old books that inspired us?
Hakim Crampton: It really was, and of course, you know, just like for you, I'm sure there was multiple books that really impressed upon you. But there's always one that kind of stands out, and for me it was The Autobiography of Malcolm X. I mean that led to many other things like Dr. Na'im Akbar, The Community of Self, Visions for Black Men, etc. But, so I mean, you know, Lana, you know, I know I just asked that question about your motto in life, because you know we're really talking about leadership and whatnot. But I want to combine two other questions for you, right. You just graduated "Leading with Conviction," phenomenal leadership program of JustLeadershipUSA. Could you kind of tell us, define what is leadership for you? and simultaneously, what was your favorite part of the program of "Leading with Conviction"?
Lana Mendis: Leadership for me is working with others as a team to help everyone grow. Leadership to me does't mean just take control of a situation and do it yourself. Leadership is a team effort. You know, each of us have, you know, a gift. Each of us have a purpose. And I know in leadership, we each have a role to play and some of us are more creative. Some of us are more organized, you know. We have better organizational skills or things of that nature. And leadership, I feel that we have to come together, and again what's that model, the value/problem/solution/action, VPSA model? We have to, it's important to utilize that, because we have to come together to find out what is it that, what's the issue, right? And what's the value in it? And this is what it might take away from it. The problem is, you know, what threatens that value, right? And then the solution restores that value. I'm remembering this! Do I get an A-plus for this? And then the action is what can we do, you know? We got the solution, so what can we do to come, you know, come together.
So leaders, in leadership that's what we do. We come together, and we try to come up with this solution to, we want to be problem-solvers. But we also want to take action and come up with that solution, so we can get it done right. To me that's important, and what is my biggest takeaway from LwC, you know, cohort 2022, shameless plug, was that we were a community. So I went, I kind of went through a lot behind the scenes, in a sense, where some of my cohort members, and I'm gonna throw her name out here, Keeda Haynes. I remember after my fourth, it was the last forum, and all I did was talk myself down before I even spoke, and I was very emotional. And she called me, she was like, "I need you to talk, I need to talk to you," and we had a whole conversation. This was during our lunch break, I believe. It's during lunch break and, or may have been after, but she encouraged me so much. And I worked with, I still work with, some of the, you know, the leaders that I graduated with in that community.
That sense of family, that was amazing. And I love that because, we get, you know, we're spending five, six hours a day on these weekends together, even though it's on a, it was on a Zoom call, but it was still, you know, we had similar stories. So we could relate to each other. We all had these lived experiences, where sometimes outside society, they don't understand what that feels like and what we go through and what adversity we face. But together we were strong, and we supported each other. So that community, that family that, you know, everyone uplifting each other and working together meant a lot to me. And I threw Keeda out there because, you know, I admire her as a speaker. And she shared some things with me that really helped me. And with "Leading with Conviction," overall helped change my perspective. Helped me grow, helped me see myself more so as a leader, and not as a failure. And helped me to even know more and understand more what my purpose in life is and why I do what I do. Because I want others to feel the same way. I want others to experience the same thing so that they know that their life, they're here for a reason, and their life is important.
Lester Young: We'll just say, shout out to Keeda Hayes, because I think we're going to be interviewing her. She's the next person for the JustUs Speaks podcast, so shout out to her.
Obviously it sounds like, you know, going through "Leading with Conviction" was not only just about you learning new leadership principles, but it sounded like you were also able to add more to this family. This is what it's all about when I look at the formerly incarcerated community, "Leading with Conviction," "Emerging Leaders," it's almost like we become a family, right? It's like you become a family now, and we all have a similar story. We support each other, we stand on each other's shoulders, we encourage each other, because one of the five practices of leadership that you remember is encouragement of the heart. And sounds like what Keeda did for you, during that phone call, where she stepped into one of her roles as a leader, and that's encouragement of the heart of someone else. So that's always a beautiful thing that comes from our "Leading with Conviction," is that we see these five practices. We see those members who are going through it, the alums, they're going through, and they're actually displaying and demonstrating that. So shout out to Keeda.
Hakim, can you remind me so we shout out Keeda and let her know that Lana says that she really encouraged and appreciated that?
Promo: We are so excited to invite you to the JustLeadershipUSA Ninth Annual Benefit Gala, Monday, June 5th, 2023, at PhD Rooftop Lounge at Dream Downtown in New York City. We're excited to bring JLUSA leaders, allies, and advocates together in person to unite around our shared values and propel our vision for the future. During the last year, we've made significant strides in building our capacity and infrastructure to become the only national systems change movement and policy table led by and for directly impacted people. This coming June, please join us for our first in-person celebration in over two years. Learn more at jlusa.org/gala. That's jlusa.org/gala.
Lester Young: Before we wrap this podcast, I got a couple more questions to ask you, and one of them is, I asked you about the book, right? And you mentioned that Purpose Driven Life was one of those books that inspired you. My question now is this. Like, who was that leader, who is that leader that inspired you in your most darkest days of incarceration to take on this role to say, "You know what, one day when I walk out of this prison, I'm gonna take on this mantle of becoming a leader to change the social narrative and also be an inspiration for the women and the men who have went through what I've went through"? Who's that leader for you—past, present, future? Who is it?
Lana Mendis: That leader for me was actually my chaplain at the time. Her name is Jill. She calls herself Jill Suddenly, because she believes in "suddenly miracles." And the reason why I say her is because, despite all the no's, all the naysayers, she's a chaplain and now she runs, in the area, she has, what do you call, local women's homes, faith-based living homes that she's growing. And the reason why she was really a role model to me, I remember before she became chaplain, I remember her coming to Ohio Reformatory for Women and speaking because she, she speaks, she preaches and things of that nature. And she's a minister. And she came and spoke, and she shared her story. And I was sitting in my little uniform, and I remember her. She had a tattoo of "suddenly" on her foot, and she's like my height. She's six feet tall, long blonde hair, she was like, I'm like, "This woman's been to prison?" You know, she just didn't look … She was like a model to me. And I saw her. She came, and she started preaching, and she starts sharing, "I sat where you sat," and then she had, she gave birth to one of her children while she was incarcerated. And to hear her story and see where she's at now? Like, at that time, yeah, I remember sitting in that front row saying, "You know what? This is what I want to do."
Lester Young: Wow.
Lana Mendis: I want to come through and share my story, because I was crying. I remember getting so emotional and thanking God for the opportunity for people like her coming in to help, share their life with us, and taking the time to speak to us. And share some, you know, give some great messages and things of that nature. She kept coming back, and then I ended up being transferred to the prison where she was chaplain. And I was like, "Oh my gosh!" It's like she was like a superstar. But it was just, she doesn't know how much I feel God used her to motivate me and encourage me all the time. And I still, you know, I still appreciate her. But I remember she was that first person, that first face, that I felt like comfortable. I felt, you know, I could relate. And she was on that side. "I'm gonna go back and that's what I'm gonna do. I want to encourage others and give them hope," because I was so hopeful after that day. And every time I saw her coming up, I made sure I was in the front row.
Lester Young: You know Lana, that reminds me of being in prison too. And that's what inspired me too. One of the first prison chaplains encouraged me to read this book by James Allen. His name is Chaplain Scotland. You know, it's amazing how these prison chaplains became your first example of what it looks like, you know what I'm saying? And inspired you to do better. And he gave me my first book by James Allen called As a Man Thinketh, and that changed my perspective outside of The Autobiography of Malcolm X. You know what I'm saying? So you need, if you haven't reached out to that chaplain, I encourage you at the end of this podcast or like go on social media, find that chaplain, and let her know that she's been truly an inspiration to you in the past during your dark days. And even in this present moment, because I just saw you light up when you started talking about her and that's the beauty of what a leader does. And that's going back into the five principles of practice that you went through with "Leading with Conviction," as we talk about encouraging the heart. She encouraged your heart to this very day. I can see it from your smile and how you just glowed from talking about that. Would you agree?
Lana Mendis: Absolutely, I still do. I still talk to her every once in a while. Yeah, so Facebook, all that so, yeah. She's doing some amazing things out there so … And like I said, her story, the fact that she, you know, sat where I sat, she was on the other side, she was incarcerated. But despite all of that and the adversity that she faced, she continues to do what she does and does great at it.
Hakim Crampton: That's wonderful. Lana, you know, with all that you just shared, you know, and thank you for sharing that. We wouldn't want to, you know, kind of wrap this up with these two powerful questions and important questions for leaders and leadership, right? And after you having gone through what you just went through and then got hired by an organization to continue furthering your leadership skills, tell us: What are your hopes for the upcoming year, as well as your vision for the future? What are your hopes for this upcoming year, as well as your vision for the future?
Lana Mendis: My hopes for the upcoming year and vision for the future. So what my hopes are, especially being, you know, in this position and working with you all, would be, we want to aim to overcome the absence of consistent leadership in the criminal legal system, right? And that's by connecting the formerly incarcerated and training them under structured leadership. So I know next year is going to be the bomb, because we're going to be in-person a lot more. And I, although I think, you know, Zoom calls are great but this, we're going to have interaction with these leaders personally, and I think that is going to really help with change, right? And I'm super excited for the upcoming year, because I know that us, as a team, we're going to help these leaders grow. And with the things that we have in place, I'm just excited to see people just kind of blossom in what they do. We're going to have more voices that are going to be heard, and we're going to take over! The directly impacted, we have a story, we have many voices, and there's so much that we have that we've been, you know, forced to keep inside. But now it's about to come out, and we're gonna go out here and make some changes!
Lester Young: That's what's up, that's what's up! Listen, we're coming to the end, and I really appreciate you, your candidness about everything that you went through, and about your leadership. With your visions and your goals, I really sincerely appreciate you, you know, so Lana, what is, you know, the biggest thing that we find most leaders struggling with in this space is taking care of themselves emotionally, mentally, spiritually, and physically, right? And we see that, even with myself as a formerly incarcerated person, even with the work that we do with "Leading with Conviction," we find that leaders are always struggling about this self-care. And I just want to ask you that, how are you practicing self-care in all of the things that you got going on in your life today? How are you practicing self-care? And if you're not practicing, what are the things that you want to start implementing into your life to start taking care of yourself and not everyone else?
Lana Mendis: So I'm learning about self-care. I know what it is and what I'm doing now is I'm going to start taking my Sundays, and it's going to be for me. Just relax and kind of shut down. You know, in a sense, where I'm going to turn my phone off, no social media, and that's what I'm going to do. I'm just going to give that date to myself and take the time that I need and maybe even go to church. (laughter)
Hakim Crampton: OK that's one of them. That's wonderful. We really appreciate the time you spent with us today, talking about leadership and your journey. And once again, you've inaugurated our JustUs Speaks podcast, so once again thank you! I'm your co-host, Hakim Crampton.
Lester Young: And I'm your co-host, Lester Young. Lana, thank you again for sharing all of that which you shared with us and being candid. And we really appreciate you, and continue to lead with conviction in everything that you do. Be blessed.
Lana Mendis: Thank you so much. It was a pleasure being here!