Webinar Series: HEAL Connections Sharing Sessions
Past Event: July 27, 2023 — 1–2 pm
Zoom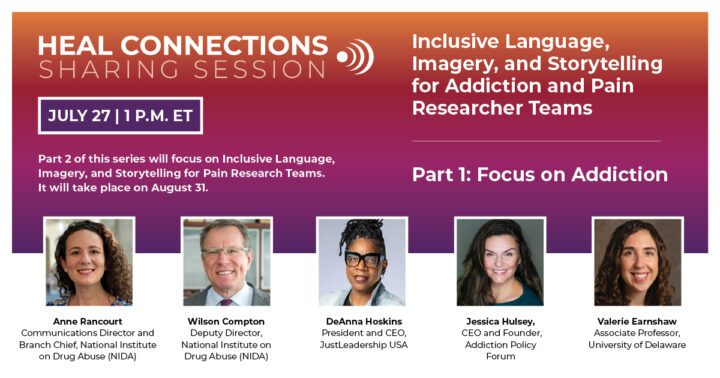 Overview
HEAL-funded researchers studying opioid use disorder and addiction must carefully communicate about their studies to avoid perpetuating stigma and negative stereotypes about these conditions and the people affected by them. Inclusive language, imagery, and storytelling are powerful tools that counter stigma by promoting respect and building trust—but even the most sensitive among us are at risk for relying on graphic and language conventions that inadvertently reinforce negative perceptions.
This Sharing Session is part one of our two-part series and will focus on tips and tricks to help HEAL addiction researchers use language, imagery, and storytelling in respectful ways that engage all stakeholders.
While this Sharing Session will explore our topic through the lens of addiction research, we anticipate learnings from both the addiction and pain sessions that will be applicable to all HEAL project teams. With that in mind, we invite all HEAL research teams to attend this session.
Topics Covered
Learn real-world case examples for communicating with respect to stakeholders from those who have researched stigma and its impact on people with lived experience.
Explore actionable resources to reduce stigma and make research communications more engaging and impactful.
Hear about opportunities to partner with HEAL Connections to support the use of inclusive language, imagery, and communications product development.
Speakers
DeAnna Hoskins, JustLeadershipUSA
DeAnna Hoskins has been at the helm of JLUSA as the President and CEO of JustLeadershipUSA (JLUSA) since 2018. A nationally recognized leader and dynamic public speaker, Hoskins has been committed to the movement for racial and social justice, working alongside those most impacted by marginalization for over two decades. Her own life experience has been this driving force, having been directly impacted by the system of incarceration and the war on drugs, and with her professional experience, from working on grassroots campaigns to state and federal government. Hoskins holds a master's degree in criminal justice from the University of Cincinnati and a Bachelor of Social Work from the College of Mount St. Joseph. She is a licensed Clinical Addictions Counselor, a certified Workforce Development Specialist trainer for formerly incarcerated people, a Peer Recovery Coach, and is trained as a Community Health Worker.
Jessica Hulsey, Addiction Policy Forum
Jessica Hulsey is the founder and CEO of the Addiction Policy Forum, a national nonprofit organization dedicated to elevating awareness around substance use disorders and helping patients and families in crisis. Hulsey drives stakeholder engagement and science translation for the Justice Community Opioid Innovation Network (JCOIN) and HEAL Connections centers. She has more than 25 years' experience in the field of prevention, treatment, and policy solutions to address substance use disorders. Hulsey serves on the National Advisory Council on Drug Abuse and has testified before the President's Commission on Combating Drug Addiction and the Opioid Crisis, as well as both the U.S. Senate and House of Representatives. Her efforts helped secure the passage of H.R. 6, the SUPPORT Act, the Comprehensive Addiction and Recovery Act, the Second Chance Act, the Justice and Mental Health Collaboration Act and the Drug-Free Communities Act. Hulsey received her BA from Princeton University.
Wilson Compton, NIDA
Wilson M. Compton serves as the Deputy Director of the National Institute on Drug Abuse (NIDA) of the National Institutes of Health. NIDA is the world's largest funder of research on health aspects of drug use and addiction, including research related to preventing drug use, treating addiction and addressing the serious health consequences of drug use, such as substance-related HIV/AIDS. In his current role, Compton's responsibilities include working with the Director to provide scientific leadership in the development, implementation, and management of NIDA's research portfolio to improve the prevention and treatment of drug use and addiction. In addition to his status as a Distinguished Life Fellow of the American Psychiatric Association, Compton is a two-time recipient of the FDA's Leveraging Collaboration Award and a three-time recipient of the Health and Human Services Secretary's Award for Distinguished Service.
Anne Rancourt, NIDA
Anne Rancourt oversees NIDA's communications activities and serves as the Chief, Communications Branch in the Office of Science Policy and Communications. Prior to joining the NIDA team in 2020, she worked at the National Institute of Allergy and Infectious Diseases as a section chief responsible for communications on HIV, allergy, and immunology. Rancourt previously served as the communications director for the Office of Research on Women's Health and at the National Heart, Lung, and Blood Institute where she directed media and digital strategy for The Heart Truth campaign, which raised awareness of heart disease in women. Rancourt has a BA in English from Georgetown University and a master's in strategic public relations from George Washington University.
Valerie Earnshaw, University of Delaware
Dr. Valerie Earnshaw is a social psychologist who studies stigma and health inequities. Her research has contributed to understanding of how individuals in recovery from substance use disorders experience stigma and how stigma harms recovery efforts. Dr. Earnshaw is an Associate Professor of Human Development and Family Sciences at the University of Delaware and the recipient of the Early Career Award for Distinguished Contributions to Psychology in the Public Interest from the American Psychological Association.