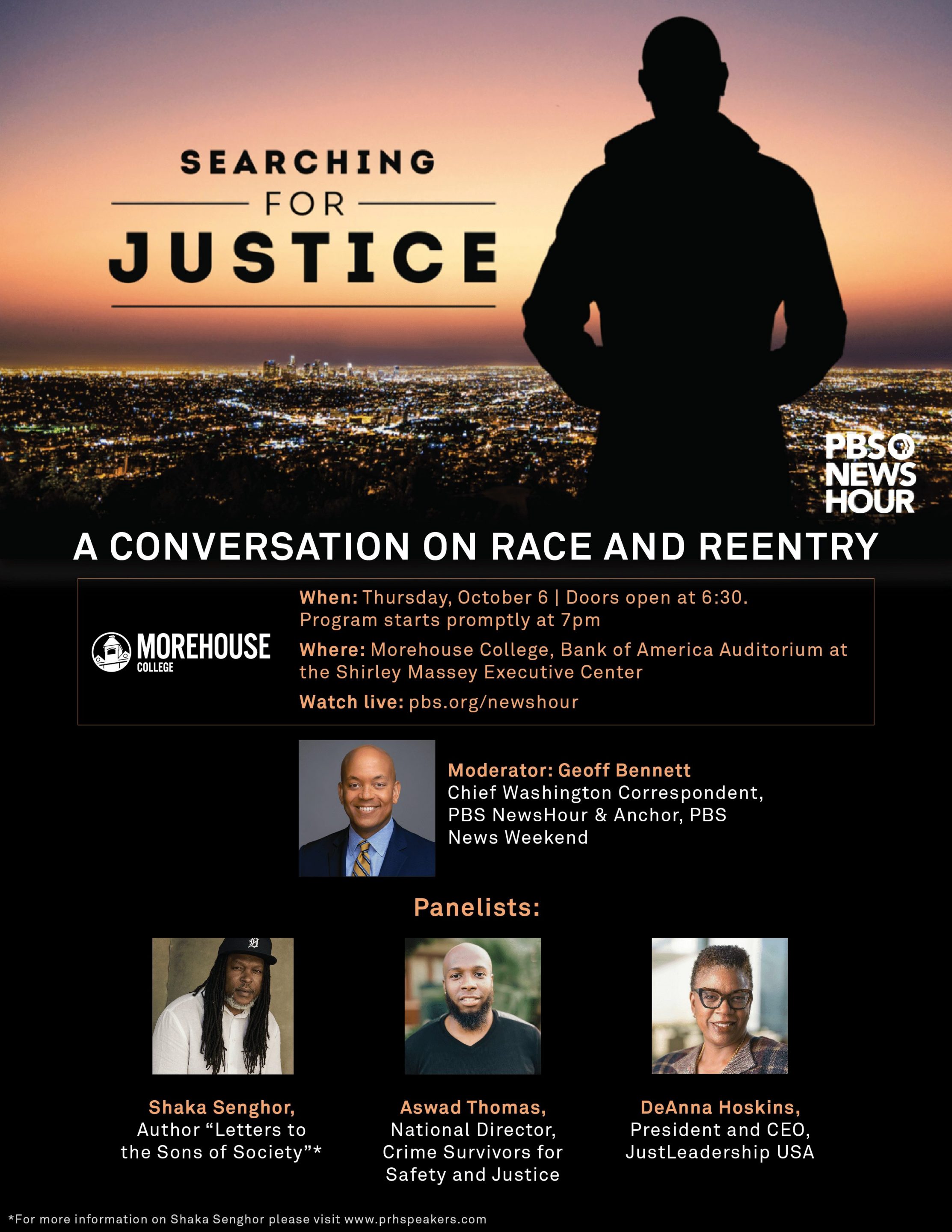 "Searching for Justice: A Conversation on Race and Reentry" PBS Newshour Livestream Event
by JLUSA
September 30, 2022
On Thursday, October 6, JustLeadershipUSA President & CEO DeAnna Hoskins joined Shaka Senghor and Aswad Thomas for a live conversation on reentry, race, and redemption, hosted by PBS NewsHour chief Washington correspondent and PBS News Weekend anchor Geoff Bennett at Morehouse College.
The panel discussion is part of PBS NewsHour's multi-platform series "Searching for Justice," which examines racial and economic disparities in the criminal justice system. In the series, PBS NewsHour explores solutions to the challenges facing formerly incarcerated Americans as they reenter their communities and seek economic stability, empowerment, and a path to a crime-free life.
DeAnna Hoskins is President and CEO of JustLeadershipUSA, and was previously a Senior Policy Advisor for corrections and reentry at the Department of Justice during the Obama administration.
Shaka Senghor's 2013 memoir about his 19-year incarceration for second-degree murder, Writing My Wrongs: Life, Death and Redemption in an American Prison was a New York Times bestseller. His sophomore book Letters to the Sons of Society was released earlier this year.
Aswad Thomas is Vice President of the Alliance for Safety and Justice and National Director of Crime Survivors for Safety and Justice where he works to organize survivors to end mass incarceration. In 2009, he suffered two near-fatal gunshots to his back, ending his basketball career.