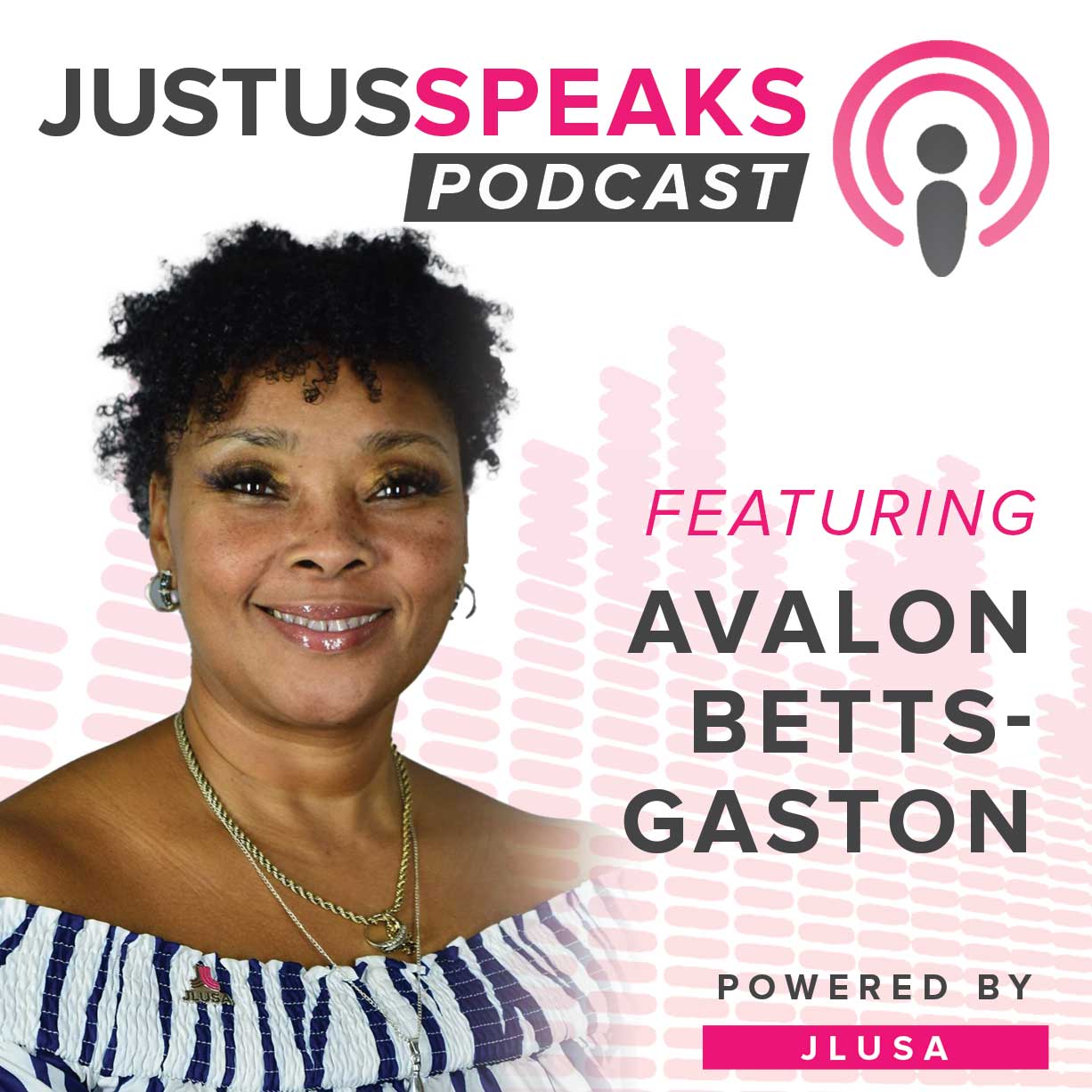 Avalon Betts-Gaston on the JustUs Speaks Podcast
by JLUSA
February 22, 2023
She was wrongfully convicted, went to prison believing people behind bars were "bad people," and found herself lifted from a dark place by the women incarcerated with her who she was taught to fear. Today she is fighting for her fellow women and girls both inside prisons and after re-entry. Avalon Betts-Gaston joins the #JustUs Speaks Podcast.
Note: The voting rights legislation Avalon speaks about on the podcast unfortunately did not pass in December, but she is still fighting for it to be passed in 2023! Read her powerful op-ed in the Chicago Sun-Times.
LISTEN NOW:
Read the full transcript:
Lester Young: Peace and blessings everyone. Welcome to the new JustUs Speaks Podcast from Just Leadership USA. I'm your co-host Lester Young.
Hakim Crampton: And I'm your co-host Hakim Crampton JustUs Speaks is being produced to amplify the voices of directly impacted people, particularly the voices of formerly incarcerated people.
Lester Young: Just Leadership was founded on the principle that those who are closest to the problem are also closest to the solution, but too often further from the resources and power to affect positive change.
Hakim Crampton: So, on this first season of JustUs Speaks Podcast we're interviewing leaders from the most recent 2022 cohort of Just Leadership USA's Leading With Conviction leadership training program.
Lester Young: Today, we have our sister, the true advocate, the warrior Avalon Betts-Gaston. Avalon is a Chicago native, non-licensed attorney, ordained minister, and a passionate advocate for dismantling change in building a legal system focused on human justice and harm reduction, not just punishment.
Hakim Crampton: Indeed, Avalon made her public debut as an advocate at a very young age when she convinced her fellow Congressional Pages to protest apartheid outside of the South African Embassy in Washington DC. This passion against various societal injustices continued throughout her life and was extra charged and focused on the criminal legal system after she was wrongly convicted in 2015.
Lester Young: As a minister of Christ, Avalon is also committed to using this experience to educate the Church and the public writ large about the…incarceral system. Those efforts have the twofold goals of dispelling the myth perpetuated by the incarceral system and empowering the public and especially the Church to be on the front line of ushering in the much needed changes to create an anti-racist, anti-classist, anti-incarceral, anti-ableist system.
Hakim Crampton: Indeed, indeed. Avalon received her bachelor's degree from DePaul University and her Juris Doctor from John Marshall Law School in Chicago. She currently serves as a board member for the Community Renewal Society, chairperson for the Restoring Rights Committee for the board of the Community Renewal Society. She also supports the McCormick Theological Seminary, Solidarity Build Initiative, as a community advisor. She is on the advisory board for the National Council of Incarcerated and Formerly Incarcerated Women and Girls, and volunteers with anti-carceral system advocacy groups locally, statewide, and nationally.
Lester Young: Wow, busy sis. Avalon is currently the project manager for Illinois's Alliance for Reentry & Justice of the Safer Foundation. Avalon, my sister, welcome to the JustUs Speaks Podcast.
Avalon Betts-Gaston: Thank you, brothers Hakim and Lester for inviting me to be a part of this new adventure with Just Leadership. I'm extremely honored and privileged to be with you all today, two of my favorite people on the planet.
Lester Young: I appreciate you, I appreciate you. You're gonna give us our flowers now, right?
Avalon Betts-Gaston: Absolutely.
Lester Young: Before we jump into a couple questions that we have, tell us, who is Avalon? We've read all of this stuff, all of these things, your accolades, the things that you've accomplished, the wrongful conviction, and different things like that but tell us who you are that we have not had the opportunity to share and read with our audience today.
Avalon Betts-Gaston: I am a daughter. I am a mother. I am a sister, and I just had my first grandniece last weekend, so now I am a great-aunt. I am a proud member of Delta Sigma Theta Sorority Incorporated, and I am formerly incarcerated. I am a person that dreams about and fights for the Beloved Community that Reverend Dr Martin Luther King talked about. That's the thing that really informs all of the work that I do, whether it's related to my biological family or my chosen family.
Hakim Crampton: We can imagine that your experience kind of brought you into the work, but share with us that was like for you, how you got involved in the actual work, this phenomenal work and resume that you're undertaking.
Avalon Betts-Gaston: I've always been an advocate since a very young age. I come from a family that was really community driven. My grandparents house was the house on the block that everybody hung out in. When you wanted to come get something to eat, you went to my grandparents house. They fed all the kids, and that's just kind of how I grew up in that, and so community was extremely important to me. Then going through my experience, I realized I adopted a new community because I went into serving my time with the perceptions that society had indoctrinated me with. I was believing that the women that I was going to be incarcerated with, that I needed to be afraid of them, that I should fear them, and that they were bad people, and then I got there, and I was not in a good place emotionally or mentally– I'm just gonna own that. I was really in the depths of despair trying to reconcile how this could happen. I played by all of the rules that society had told me to play by, but yet here I was thousands of miles away from my children, my husband, and my family for something that I didn't do, and I didn't understand why. So, that put me into a horrible downward spiral of depression and despair, and the women around me who didn't even know my name made sure that I was taken care of. They made sure I ate, they just took care of me. They loved on me–complete and total strangers. Then I became embarrassed by the fact that I had believed all of the lies that I had been told about people that are in prisons. And I vowed at that moment–once I got myself together, once they loved me back to a better emotional state–I said, "I will never, ever allow society to continue to perpetuate these myths about the people who serve time." I vowed at that moment to not only try to make our current circumstances better but also to make circumstances better for people in the future, and even more so try to keep other people, especially women, from having to experience incarceration altogether.
Lester Young: That's a powerful thing, and all three of us on this call at this present time on this podcast, we all can identify what it feels like to be placed in prison, but then being at that low point of feeling dejected and hopelessness, and then to have men and women who you're incarcerated with to to lift you up–perfect strangers that love on you and support you and encourage you. That allow[s] you to heal and define your sense of purpose inside of those prisons, I think that sometimes we undervalue that relationship but don't even understand the power of people who are at the lowest point of their lives finding the strength to tell you, Avalon, you're going to be okay and supporting you. Hakim, you're going to be okay. Lester, you're going to be okay. That's a very powerful thing, and I think that we don't really acknowledge that enough about those that are currently in prison. That's why when we walk out of prison, we walk out of prison with so much passion to fight for them because we really genuinely leave family back there. So I just wanted to ask you (really there's so many things I have in my head that I want to ask you), but what has been your favorite part of Leading With Conviction? You just recently graduated, what was your favorite part about Leading With Conviction?
Avalon Betts-Gaston: So, no shade brother Lester.
Lester Young: Here we go, here we go! [Laughs]
Avalon Betts-Gaston: No shade!
Lester Young: "Hakim was best coach." What are you going to tell me? [Laughs]
Avalon Betts-Gaston: Listen, listen, I'm just trying to say, brother Hakim. I appreciated how he just kept it above with us, right? Coming through the system (and you know this better better than I do) everything is so cookie-cutter. They treat us all the same. Your re-entry looks the same, if you get any re-entry at all. I didn't get any re-entry services, but what I'm saying is the system treats us all the same, but we're individuals. I think that the thing that I  appreciated the most about my experience was taking the information that came out of our LPI's, and brother Hakim, he made it apply to me, above and beyond what the LPI did. He individualized my coaching, and I know that's what coaching was supposed to be, but we're so used to getting treated like the same, that you just kind of grow to expect that, and that didn't happen in the cases. He just made it personal, and that to me was very important, and encouraging, and I got a lot of value out of it. I'm sure you did the same with your people. I just can't talk about it because I didn't experience [coaching] with you…The other thing was just the camaraderie amongst my fellow cohorts. It was just nice to be able to kind of be in community with them from all across the United States, where we could text each other, or talk to each other, or lift each other up, and just do a lot of different things. I have a new chosen family through Just Leadership.
Lester Young: I'm gonna let you slide on that one, I'm gonna let you slide on that one. [Laughs]
Hakim Crampton: Yes, we definitely appreciate your work in Just Leadership, and I'm glad to be able to to work with leaders and coach and apply the skill sets that I learned having gone through the leadership program myself. We're excited and thrilled to be interviewing you. I have two important questions to ask you. They're directly related, and one is, what is your hope going into 2023? And connect that also to your vision for the future? What is your vision for the future?
Avalon Betts-Gaston: I'm going to answer that two ways. I have some short-term goals, and then I have a long-term goal. So, for 2023 my short-term goal: Illinois is on the precipice of becoming the first state in the nation to restore voting rights for people serving their sentence. We are coming back to our Capitol to get it done. Starting after July of next year, our brothers and sisters that are incarcerated in Illinois zones, that are incarcerated not only in our state facilities, but also in federal facilities, will be able to vote. I know that it's going to happen. I'm speaking that thing into existence. We have a strong roll call. We're excited about that work and eager to have it official. It's unofficial for us, but it'll be official soon, so to me that's exciting. Our Cook County Jail had the largest turnout rate from voting during our primary, so our brothers and sisters on the inside that were detained pre-trial, everybody who's in Illinois and detained pre-trial, has the right to vote. They turned up and turned out. I'm encouraged by that because it dispels these myths that people who are incarcerated don't want to vote, they don't want to be involved in democracy, and that could be further from the truth. So, that's one of my short term goals that I'm excited about and then going in and doing the work to let our brothers and sisters know about who's running back at home because they get to vote at their last known address by mail. So, who's running? What are their platforms like? Really going in and to help educate them on the candidates. Because we vote for judges, and that's one of the biggest things that I focus on and that the coalition I lead focuses on. So, just educating them about judges and things like that to empower them. Participatory democracy is power, and we see that power all the time. I am determined to make sure that our brothers and sisters go to the inside reclaim their power. So that's one of my short-term goals.
Then the long-term goal is to see that to everybody. I have begun the work, and it'll start in January to actually create a national working group focused on the restoration of voting rights for everybody. Because what's happening is all the different states are doing it differently. We have different messages and sometimes those messages undermine the message of full restoration for everybody, regardless of where you lay your head. So, my goal [which] I have been asked to and I have accepted the request to begin to form a national working group focused on us moving in the same direction and trying to restore the rights of every person, every citizen in the United States regardless of conviction.
Lester Young: Wow, I'm really inspired. When I read your bio I was inspired, but I'm amped up and inspired even more now, just to know that especially this work of restoring the voting rights for those who are currently inside of the prison system, that is huge. That is so powerful, and for us as formerly incarcerated people, to just be able to really retake back these things that we have been stripped of…one of the things we know is the power of voting. And to now say that you're going to be etched in history as one of the co-founders and one of the ones who facilitated this movement, in doing stuff together with a body of people, is very powerful. That brings me back to what you said earlier about you being raised in your grandmother's house and being able to experience being a part of that community, it's almost like you're living on with the spirits and the teachings of your elders and ancestors who have shaped that with you. So, continue to do the work. [Music]
Just Leadership USA amplifies the power of directly impacted people by investing, educating, empowering, and elevating their voices, so they have the tools and resources to self-organize and advocate for themselves, their families, and their communities. Together we build an equitable, fair, and just US. To date, over 1400 leaders in 45 States and in Washington DC are hard at work transforming people and communities who are harmed by mass incarceration. Please partner with us to bend the arc of criminal legal reform by donating to our leadership programs today. Our network of leaders is strong and growing. Together, we're building local power for national impact. Every donation supporting JLUSA and our leaders has a ripple effect across families, communities, and generations. With your support we can continue working together towards our singular vision of a just, equitable, future for all. To learn more go to jlusa.org backslash give 2023 that's jlusa.org backslash g-i-v-e-2023. [Music]
Lester Young: I got another two-part question, as well as Hakim. Number one is, what is your motto? What is that motto that you live by and in all of this work that you're doing, what are you doing about self-care? As a leader, what's that motto that you live by, and then what are you doing in the midst of all of this, how do you hit that pause button for self-care?
Avalon Betts-Gaston: The thing that enhanced all of the work that I do, and people around me hear me say this all the time: we do this work in community. I am not going to allow systems to divide advocates based on money, based on anything. I work very hard to make sure that as we do this work, we do it in a way that we're doing it together, as family. I call my coalition family. When I send my emails out, "I'm like, hey, fam" because that's the thing that really drives me. I want us to operate in that fashion.
Now when it comes to self-care I will say, one of the lessons that I learned through my experience is boundaries. Coming up in the legal profession as a Black woman, I was not accorded the luxury of being able to establish boundaries. So, one of the lessons that I learned going through this experience (throughout my wrongful conviction) was to establish boundaries, and that I had the right to do. I never felt like I had the right to establish boundaries and say, this is how I'm going to allow you to treat me, and this is how far I'm gonna let you go, and to say no when I need to say no, and say yes when I need to say yes. That's one of the things that I do, and that's the way that I practice self-care, but sometimes [I] just take a break. I'm taking some time off next week. This is a busy season for us. It's a big time for conferences. I mean I see that it's a really busy season and this is my first time going through that, and so I'm taking some time off next week just so that I can kind of regroup, rest, restore myself. I can't take a vacation because I just moved, but just to take some time off, I do believe in that. I try to make people around me take their time off. I'm always telling people (like some co-workers), they're like, "Oh, well the work doesn't stop until I'm in the grave." And I'm like, that's crazy. That's crazy talk. Don't expect that from me. So that goes back to my boundaries as well, as part of self-care because I'm like, well, I'm not gonna live like that. I mean, yes the work does not stop, and I am passionate about the liberation of my people, but at the same time, I can't do the work if I'm not breathing. Or, if I'm not good in the head. I can't do good work if my emotional state is off. So, it's important, and I haven't gone through what I went through, being in the pits of despair and depression, I'm not trying to go back there. I'm not going to waste the love that those women poured onto me and poured out to me by allowing myself to go back to that space. I owe it to them to fight for my emotional and mental well-being.
Hakim Crampton: That's powerful. Especially when we know our value, and you understand and clearly stated your value. You can't get this work done unless you value yourself, and I think we oftentimes miss that. For a lot of people like myself, when I found myself in prison, I was in a state of darkness, and for the first time I found some light. That may not have been your case, you may have been already inspired as a youth [since] you were already involved in advocacy. So my question for you is this though. Was there either an inspirational book or an inspirational leader while you were incarcerated who really gave you a sense of inspiration or direction for perhaps the work you're doing now, or just infused and gave you more power to do the work that you're doing? Was there an inspirational book or even a leader?
Avalon Betts-Gaston: Yes, I will say–and it was inspiring to me because it opened my eyes to the reality of the system–I had not read Michelle Alexander's, The New Jim Crow until I became incarcerated. I read that book while I was incarcerated, and my whole world, especially as an attorney was rocked. My identity was rooted in who I was and what I thought the system was as a lawyer, as a member of the bar. When I read The New Jim Crow, it was like the veil had been lifted, and I said, "Oh, my goodness. My fight for justice all the way up to that point was limited because I didn't know what I didn't know." I couldn't work on the areas that I was unaware of. I really was drinking the Kool-Aid with regards to the legitimacy of the system and that it was out for justice, and that it was going to bring justice at some point in time. I genuinely believed that, and when I read The New Jim Crow, I realized, "Oh, Avalon that is so far from the truth, and you have to understand and acknowledge the system." So, I needed to get that understanding so that I know how to do the work, because even up until that point while I was doing justice work, I was doing it from a place of ignorance. That really helped me to change my focus to be like, "Oh, wait a minute. I can't keep legitimizing a system that's illegitimate. I have to really start to work on what the "real real" is, like "for real, for real" as they say. I learned that through reading that book and then I read Susan Burton's book, Becoming Ms. Burton, and that was an inspiration for me even though we did not struggle with the same trauma, and how we dealt with trauma, but just to have someone come out of that situation–and I'm like, if she can do it while losing a child, I can do it losing a title.
Lester Young: Wow, you mentioned Susan. Could you tell the audience a little bit about what Susan's doing now, and what she's doing for the women who are coming home from prison? Could you just share a little bit about who she is?
Avalon Betts-Gaston: Yeah, so Susan Burton started transitional centers for women coming home from incarceration in California. She saw that women, and especially women with children, (which is 76 percent of them, actually 80 percent) incarcerated women have children, and she saw that there was this void of transitional housing for women as they were reunited with their communities. So, she started opening homes to receive women as they left incarceration. Now she's built this network, and she's training women all across the United States on how to create and establish these transitional centers or homes for women that allows for them to bring their children, and fights for them to keep their children, because one of the biggest things that happens to women as a result of incarceration is that they lose custody of their children. She called the school wrap around services for them. It is a harm reduction center type of supportive program, and she's training formerly incarcerated and non-formerly incarcerated, but specifically formerly incarcerated women, to open these types of homes in their states, in their cities, in their towns, and it is amazing the work that she's done. A dear friend of mine in Southern Illinois is trying to open up a Center for Women down there because that's a part of our state that really, there's very little assistance for people and especially women who are coming home from incarceration. So, she's about to do that and it's just exciting to see women who have been incarcerated come home to a place until they can find their own permanent residence and come home to a place that's home. [A place] where they can have their babies with them, and they can kind of get things together until they can fly for themselves. I'm just so inspired by her, again coming from the loss of a child, that's just devastating. No parent wants to bury their child, and then here she is now decades later empowering women on so many different levels to help women. Women helping women.  I am personally an abolitionist. The coalition I lead is not an abolitionist coalition, but one of the phrases that we use is, we keep us safe. That is, I think, exemplified by the work that Susan Burton does is that she establishes places where women keep women safe.
Lester Young: I remember meeting Susan with one of the FICPM convening, and I was just extremely inspired by hearing again how someone came out of this bad environment and turned her life around and then created a ripple effect of change. Just like all of us, created this ripple effect of change in the lives of so many people. That's just power. [Music]
We are so excited to invite you to the Just Leadership USA 9th Annual Benefit Gala, Monday June 5th 2023 at PhD rooftop Lounge at Dream downtown in New York City. We're excited to bring JLUSA leaders, allies, and advocates together in person to unite around our shared values and propel our vision for the future. During the last year, we've made significant strides in building our capacity and infrastructure to become the only national systems change movement and policy table led by and for directly impacted people. This coming June, please join us for our first in-person celebration in over two years. Learn more at jlusa.org backslash Gala that's jlusa.org backslash g-a-l-a [Music]
Lester Young: We have this last question. I think you have already answered this question, but I want you to just expound upon it a little more. What are some of the lessons you learned from your failures in the past and even in the present moment? What are some of the lessons that you've learned in this failure?
Avalon Betts-Gaston: A couple of things: resilience. Don't give up. That one loss does not define who you are or the work that you do. Just keep going, and keep moving, because literally lives are at stake. Then, the other thing is that sometimes you can always learn a lesson from those losses, but sometimes it's the system. The system's not just not ready for you. They're not ready to hear and do the things that you know the system needs to hear and do. So don't take that. Let it roll off like water on a duck's back. Let it roll off and keep it going. Allow yourself to put one foot in front of the other and to continue to do the work. We are all called to do great things, and when I say great, I don't mean it has to be something that's on national news or even on local news or reading up or anything. When I say great, I just mean impacting one person's life because that's great. We're all called to do that, and we should just walk in that greatness. Like you say brother Lester, that's the only rule, own what you doing and continue to move forward because that's how we get the work done. We keep putting one foot in front of the other.
Hakim Crampton: Absolutely. Such a powerful tidbit of information from you. I mean we really thank you for coming on, and once again, congratulations on your recent graduation from Leading With Conviction. Can't wait to see all the phenomenal things you're continuing to do in the future, so we just thank you for this interview on JustUs Speaks Podcast. Thank you, Avalon.
Avalon Betts-Gaston: Thank you so much for having me. Like I said, two of my most favorite people. Any time I can spend time with you all, it's always a privilege and an honor for me.
Lester Young: Do you have anything you want to just leave our audience with today? Some words of encouragement? Something about leadership? Just share something with our leaders as we close out?
Avalon Betts-Gaston: We all are leaders in our own right and in our own way. We just need to find our how and where. So, find your space as a leader and lead. Whether it's big or small, you have a calling on your life, and you should walk into that greatness. Love on yourself, and love on your people.
Lester Young: Thank you, thank you. Now that we conclude the JustUs Speaks Podcast for today, again Avalon, thank you for being our guest, and we look forward to continue to engage you, and continue to see you grow and do phenomenal things, not only in your city but in the world because your vibration is sending it around the world, not just in your location. So may God continue to bless you and stay strong sis.
Avalon Betts-Gaston: Thank you brother Lester. Thank you brother Hakim. [Music]