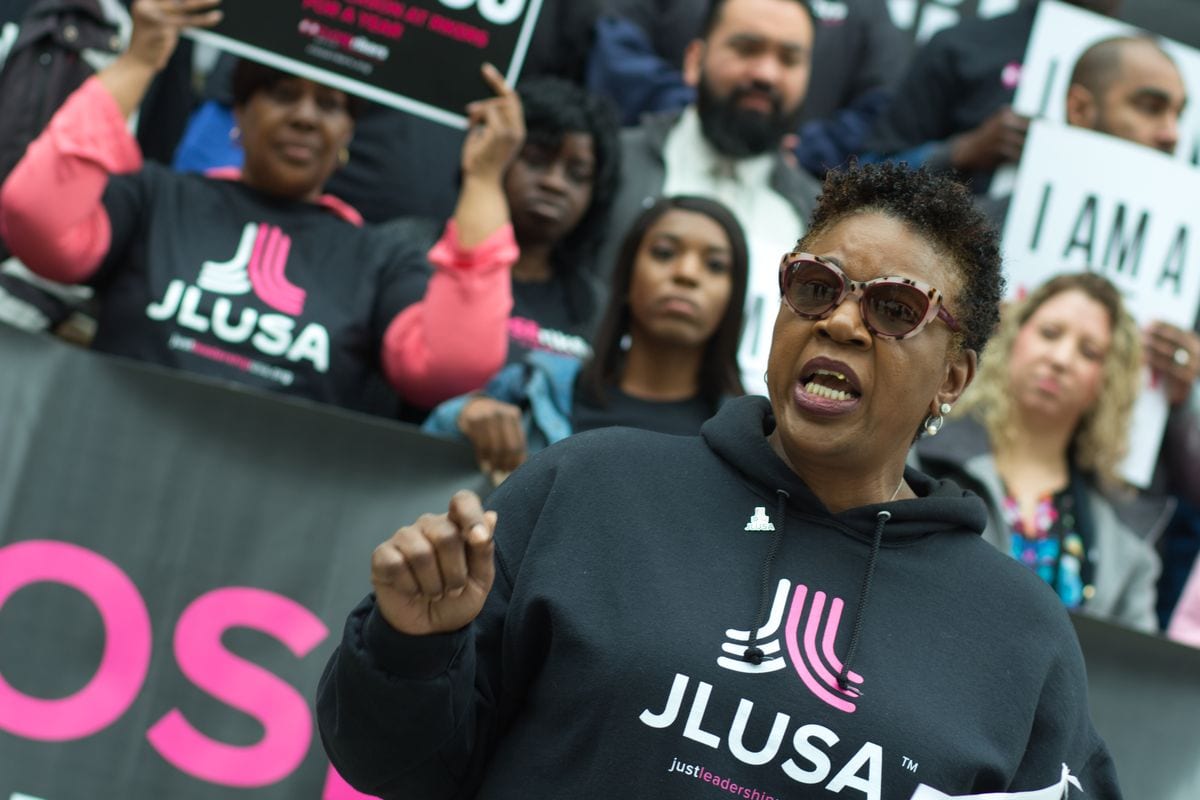 About
Mission
JustLeadershipUSA, a national non-profit, is led by directly impacted people and is dedicated to decarcerating the United States by educating, elevating and empowering the people and communities most impacted by systemic racism to drive, amplify, and sustain the kinds of policy reform that builds thriving, sustainable and healthy  communities.
We are committed to educating, investing and supporting the leadership of those most impacted by discriminatory policies, to empower them with the tools they need to be more effective advocates to drive national and local policy change and better organize supporters in their own communities.
About the President
DeAnna Hoskins has been at the helm of JLUSA as the President and CEO of JustLeadershipUSA (JLUSA) since 2018.  A nationally recognized leader and dynamic public speaker, Ms. Hoskins has been committed to the movement for racial and social justice, working alongside those most impacted by marginalization for over two decades.
Ms. Hoskins leads from the perspective that collective leadership, advocacy for justice with reinvestment, and bold systems change are only possible when those who are most harmed are provided the tools and resources to demand change. Her own life experience has been this driving force, having been directly impacted by the system of incarceration and the war on drugs, and with her professional experience, from working on grassroots campaigns to state and federal government. She is inspired to make the world more just with communities across the country, and for her three children – two that have experienced the criminal justice system.
Ms. Hoskins has been a part of JLUSA's national alumni network since 2016, as a Leading with Conviction Fellow. Prior to taking the helm at JLUSA, Ms. Hoskins was at the Department of Justice where she joined under the Obama Administration. There, she served as a Senior Policy Advisor (Corrections/Reentry) providing national leadership on criminal justice policy, training, and technical assistance and information on best and promising practices.She oversaw the Second Chance Act portfolio and managed cooperative agreements between federal agencies – the Department of Labor's Clean Slate Clearinghouse, supporting formerly incarcerated people with expunging their records; the National Reentry Resource Center; the National Inventory of Collateral Consequences and Convictions; the National Institute of Corrections Children of Incarcerated Parents initiative; and more. She also served as the Deputy Director of the Federal Interagency Reentry Council.
Throughout her career she has been committed to reducing stigma and harm in communities impacted by mass criminalization. Prior to joining the DOJ, Ms. Hoskins was the founding Director of Reentry for Ohio's Hamilton County Board of County Commissioners where she worked to reduce recidivism by addressing individual and family needs; increased countywide public safety for under-resourced communities of color; reduced correctional spending; and coordinated social services to serve populations at risk that were impacted by decades of generational disinvestment and deprived of first chances. She has worked in local neighborhoods in Cincinnati and at the Indiana Department of Corrections on improving conditions and treatment of incarcerated people.
Ms. Hoskins is originally from Cincinnati, Ohio and holds a Master's Degree in Criminal Justice from the University of Cincinnati and a Bachelors of Social Work from the College of Mount St. Joseph. She is a Licensed Clinical Addictions Counselor, a certified Workforce Development Specialist trainer for formerly incarcerated people, a Peer Recovery Coach, and is trained as a Community Health Worker.
History
JLUSA was founded in November 2014 by national criminal justice reform advocate Glenn E. Martin, on the guiding principle that "those closest to the problem are closest to the solution, but furthest from resources and power." The inspiration for JLUSA came from Mr. Martin's personal experience, having been previously incarcerated for six years. JLUSA's #halfby2030 mission came from Mr. Martin's love for his youngest son, Joshua Martin, who will turn 18 in 2030.
As president of the organization until December 2017, Mr. Martin worked with staff to launch the bold and successful #CLOSErikers campaign, propelling JLUSA onto the national stage; engaged in unflinching and non-partisan advocacy on the federal level; and set the foundation for the agency's multi-city advocacy work. Mr. Martin and a training consultant developed the organization's leadership program with input from over 50 formerly incarcerated leaders from across the US, with support from the Center for Institutional and Social Change at Columbia University. The Leading with Conviction advanced leadership development program and Emerging Leaders regional trainings are an investment in the individual and collective leadership of people directly impacted by the system of mass incarceration.
JLUSA is the first organization in the country to call for the correctional system to be halved, and has inspired a movement of people and new organizations to follow our mission toward decarceration. From closing toxic jails and prisons to reforming pretrial laws, barriers to employment, and the wider system of mass criminalization, JLUSA's bold campaigns with valued partners across the U.S. amplify the voices and expertise of directly impacted people who are leading us toward #halfby2030.
Advisory Board
Barbara Edwards Delsman
Court Appointed Special Advocate
New York, NY
View Bio
Bill Cabin
Assistant Professor, Temple University
Michigan
View Bio
Daryl V. Atkinson
Co-director, Forward Justice
Civil and Human Rights Attorney
View Bio
Francis Greenburger
Founder & President, Greenburger Center for Social and Criminal Justice
New York, NY
View Bio
Michelle Alexander
Civil Rights Lawyer, Advocate & Author of The New Jim Crow
New York, NY
View Bio
Norris Henderson
Founder & Executive Director, VOTE-NOLA
New Orleans, LA
View Bio
Piper Kerman
Author, Orange is the New Black: My Year in a Women's Prison
New York, NY
View Bio
Careers
JLUSA is dedicated to cutting the US correctional population in half by 2030. Come work with us and help make this dream a reality.